---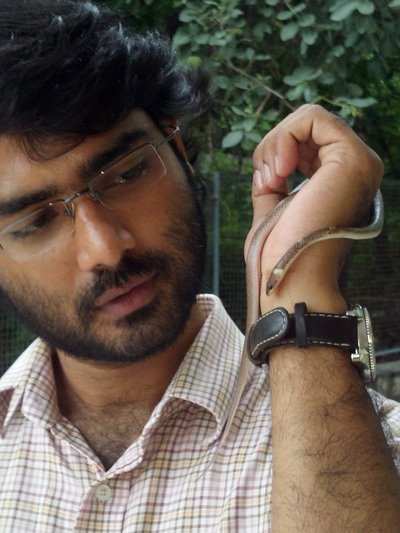 Rohit Gharde
When creepy crawlies come out for a spin at the Indian Institute of Forest Management, Bhopal, there is only one person to call - Rohit Gharde. The 26-year old, second year student at IIFM, is not just a snake-catcher, more a snake-charmer, that too in the real sense.
His fascination for snakes started as a child with an incident that would actually have put-off most people. "I was in Assam and saw a snake eating its prey in the backyard of my house. That sight mesmerised me. It was my first snake in the wild and it made me wonder how a creature without hands and legs can actually survive, that too so successfully," Rohit told PaGaLGuY.
Fascination soon turned into a structured passion and Rohit undertook various learning programmes on how to deal with snakes. From volunteering in the 'King Cobra Radio Telemetry Project' in Agumbe Radinforest Research Station, Karnataka, to learn about their behaviour to accompanying professional snake handlers in Mumbai, to learn how to understand the species better, and if need be capture them. Rohit also began to collect books and movies on snakes and today his hostel room in IIFM and his home in Mumbai are packed with them.
Over the years, Rohit learnt to deal with hundreds of snakes - of different breeds, sizes and colours. He has caught them in the rarest of places like people's bedrooms to school playgrounds and housing society complexes. Rohit also delivers lectures on the subject and his presentations are quite popular in Maharashtra.
The obvious decision after so much of learning was to put it to some organisational use and so Rohit thought of doing an MBA. The snake lover was sure of one thing, that wildlife was going to be his future.
And IIFM became an apparent choice because the institute is known for environment and wildlife studies. And was that a good decision? "Yes, am happy I am here. Besides, it helps a lot as we have many snakes in the campus, many times venomous ones. I can differentiate between the two, help catch them and have taught many others how to deal with them too."
The learning is however continuous. For instance, on one occasion, a friend caught a snake and held it by his neck, not realising it was a venomous one. "I was out and left my phone in the room so was not able to take his calls either. On return I realised the snake was a Common Indian Krait. When I told my friend, he was shocked. Today, he knows how to identify a Krait," informed Rohit.
The snake lover has saved many harmless snakes from getting killed, by educating the guards in the campus who first think of killing them. Rohit's cell number is on all notice boards in the campus and also in students' rooms and Rohit is called in any time of the day or night to deal with the legless creature.
Rohit, in his younger days in Mumbai
"Since IIFM is far away from the city it is necessary that the administration knows about the potential hazard and educate every new batch of students. I strongly disagree to the idea of teaching students about how to handle the snakes, as the first step to be safe is to differentiate a non-venomous snake from a venomous one and it takes years of practice and interest to be able to do that. Many times youngsters do so to impress their friends without realising the danger," feels Rohit.
Rohit's advice however is always to stay away from snakes. "Snakes are elusive in nature and they fear us more than the other way round. If you see one, stay away."
So how does 'management' help? "There is a lot to learn about management of various things, including animals. Though in IIFM we learn more about the bigger animals it is more about learning how to manage animals and animal organisations in general, research and surveys. Besides, at IIFM I have come to know about different avenues in which one can work with wildlife," the students replies.
Incidentally, Rohit is training some of the first year students at IIFM to take over his mantle so that in a few months, when he leaves the campus in search of greener pastures, there will be others who will help keep the snakes safe at IIFM.
'Outside of a dog, a book is man's best friend Inside of a dog it's too dark to read