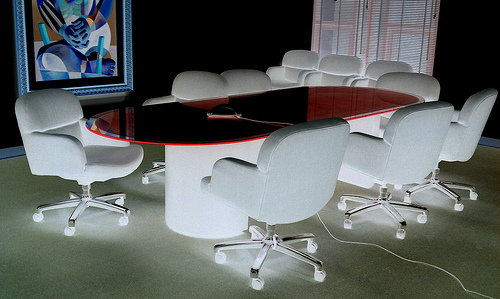 Photo: Flickr
In a week, the Indian Institute of Management, Ahmedabad (IIM-A) is expected to announce the name of its new director. In all likelihood, the top job will go to someone from within the institute, considering that quite a few applications have come from in-house.
PaGaLGuY also learnt that the present director Dr Samir Barua has applied for a second term and directly written to the Ministry of Human Resources Development (MHRD) in New Delhi for the same. However, when asked, Dr Barua categorically denied having requested a second term.
We asked IIM-A officials to provide information on the progress of the appointment but they said that since the process was confidential, no one in IIM-A was kept abreast of the same.
A search committee, headed by AM Naik, chairman and managing director, Larsen & Toubro and other members such as Hasit Joshipura of GSK Pharma, Sanjay Lalbhai CMD of Arvind Group, Rama Bijapurkar and Ashank Desai of Mastek, is on the job to shortlist three names from those who have applied, which will then be sent to the MHRD.
Ironically, with less than seven days to go before Dr Barua gives up his title, the final list of names is yet to reach the MHRD. A senior official of the ministry confirmed to PaGaLGuY that no names had come to him as yet. When asked who he thinks will make the list, this is what he replied. "It is up to the board of governors to come up with a name. Whether the job is going to go to the senior most professor in the institute or the senior most dean is something that they will have to conclude and let us know."
There was also news that Prof Srikant Datar, IIM-A alumnus and Harvard Business School professor was in the fray since the current need for IIM-A was to stand up to global challenges. But our sources say that his name may not figure in the final final three as other institutes have also made offers to the Harvard teacher.
Sources add that the IIM-A faculty members who have applied to the post include professors Ravindra Dholakia, Ram Mohan TT, Arvind Sahay, G Raghuram, Rekha Jain, Rakesh Basant, and Ajay Pandey. Of this list list, Prof Raghuram, has already accepted an offer to join Indian Maritime University, Chennai, as vice-chancellor.
We asked all the above professors of which Prof Rakesh Basant and Prof Arvind Sahay responded confirming that they had applied. Prof Sahay said he was not sure about the progress is at this point but confirmed that the names had not gone to the MHRD as yet.
Prof Ram Mohan TT and Prof Ajay Pandey also responded but said that they had not applied to the post.