Arvind Garimella, on his way to meet the villagers
Summer internships are long over and it's back to classroom work inside closed walls. But in some b-schools, internship discussions are still on. And they would be, considering that some spent their internships among snow-clad mountains, others drank salty butter tea made with Yak milk, still others climbed glaciers daily to reach their place of work and some just matched steps with tigers near the Kanha Tiger Reserve.
The Indian Institute of Forest Management, Bhopal is full of such experiences. We list a few of the best ones below.
Name
: Neelima Mishra, (26) an Electrical Engineer from Bhubaneswar with 4 years work-ex.
Internship with World Wild Fund for Nature in Arunachal Pradesh, in a village called Lumpo in the Zemithang circle - which shares its boundary with China and Bhutan. The assignment was to study the grazing practices of the Monpa tribe which live at an altitudinal range of 10000-15000 feet in Tawang and West Kameng districts of Arunachal Pradesh. The tribe survives on agriculture and livestock husbandry especially yak, sheep, cows and its cross breeds.
Officially learning: Monpa herders move up to high altitude alpine pastures during summer and come down to the winter grazing sites near the villages during winter. To ensure proper management of the summer and winter grazing areas, there is a well-accepted taxation and penalty system and all tax and penalties are collected in the form of milk products.
Real learning: For the time that Neelima was there, her morning began with a hot cup of butter tea made with Yak milk with a good measure of salt. "At first it tasted horrible but later I began to love it. It also gave me much-needed energy in the tough terrain," she said.
While there, hairpin bends, cloud whiffs drifting in the valley, shimmering brooks, snow-covered mountain tops became part of her daily visual treat as she crossed mountains to study the Monpas. "The daily journey also brought with it heavy fog, landslides, road blockages and water logging that often hampered my work and stay," she added.
Neelima had to daily, also cross a creaking wooden bridge with the waters of the Namjang Chu flowing below and colourful prayer flags alongside the bridges.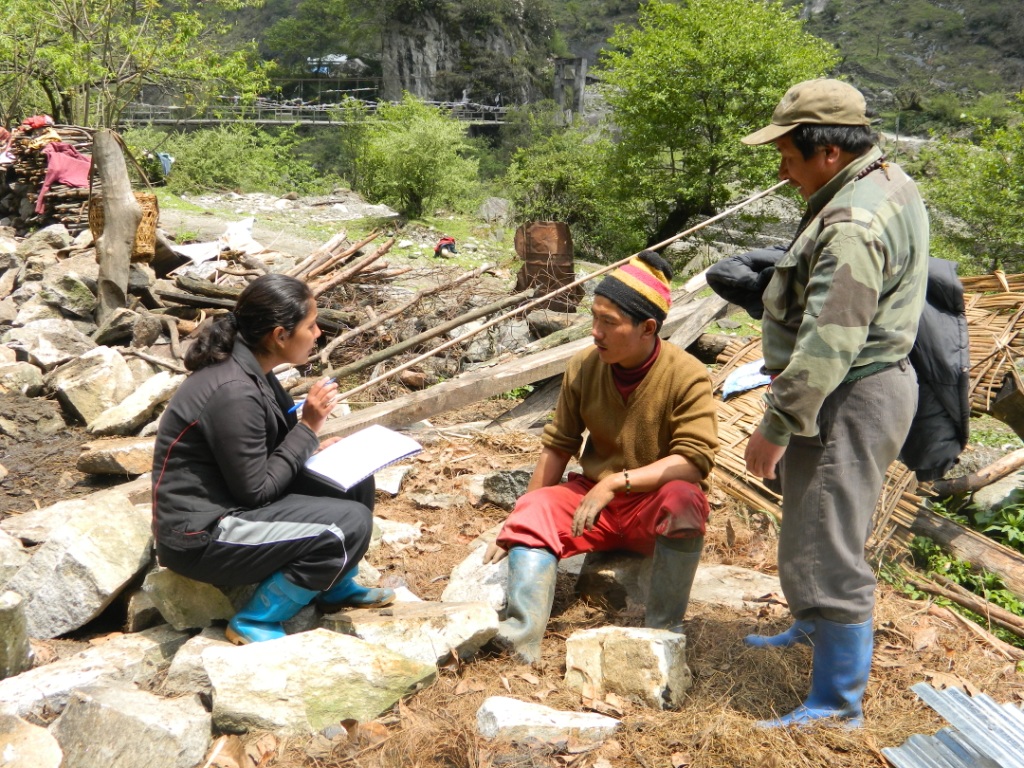 Neelima speaking to the villagers
According to Neelima, reaching Sela Pass, the world's 2nd highest motorable pass at 13,700 feet remains one of the best memories of her assignment. "There, once, the wind suddenly picked up and snowflakes started. There were only some tea shacks there and I was relieved to have quickly-cooked hot noodles and steaming tea on a wooden stove." Over time, the IIFM student also learnt to pick the edible wild gelatinous mushrooms from the barks of the trees and roast them dry.
Neelima had to complete her work by 12 noon because the afternoons often brought incessant rains. Rains bought in freezing temperatures which meant all had to keep their bathrooms taps running lest the water froze. Like the villagers, Neelima took a bath only when she saw the sun which was once, every twenty days.
Name
: Arjun Subramanian (25) B-tech Electronics and Communication with 17 months work-ex.
Internship: At the WWF program office Uttarakhand in Uttarkashi district under the Saving Wetlands Sky High program. It was to conserve a wetland named Dodital at 3000 metres (above sea level) and had a 45 day field component which required staying in village Aghora, the last habitation before the lake. The job was to prepare a socio economic profile of the village, conduct awareness programs at district and village level and a survey of Himalayan birds to explore the potential of bird tourism in the region. It involved extensive trekking as the region was devoid of any roads or any form of network connectivity.
Official learning: What conservation is all about and how organisations go about doing it by ensuring involvement of people. Firsthand experience of the problems villagers face when development initiatives are undertaken
Real learning: According to Arjun, the thrills of the assignment was making through adventurous treks which involved climbing rocks, crossing rivers with the help of a stick, crossing glaciers (if slipped could have led down to a bottomless pit) and through the rising thinness in the air completing a summit of 4000 metres to Hanumanchatti which was the source of the lake Dodital. Adds Arjun: "The view was of Bandar poonch mountains at 6000 metres were breathtaking. This was like the Herge comic of Advetures of Tintin come alive (we even had a dog that followed us through the trek)."
Arjun had also identified a point on a hill which had a stone on which his cell phone showed a one point weak signal. The phone could not be touched as any movement or a wind could wash away the signal. "Hence I used a loudspeaker to talk to people and make calls at home," laughed Arjun recalling those days.
Spot Arjun amidst the mountains, going to work
One incident that comes to Arjun's mind is the a trek down the mountain when he encountered a hailstorm and there was nothing he could do but put on his raincoat and try to walk down the mountain as fast as he could, slipping at every point. Thanks to the terrain, food was scarce and wild shrubs was often the only other choice when no rice and dal was available.
Name: Govind Tiwari, (24) B.tech (ECE), Post graduate diploma in dramatics from Rajasthan University.
Internship at the Kanha Pench Corridor to conduct a socio-economic survey of the tribal villages and potential eco-tourism sites.
Officially learning: That the villagers (Gonda and Baiga tribes) have a unique self-sufficient culture and are happy living in the remote areas. Those villagers actually keep the national park safe yet get little or nothing in return from the government.
Real learning: Govind had to start work at 5.00am to meet the villagers/tribal because they went to the forest at 7 am to collect 'mahua' for which they are paid by the Forest Department. Also it became extremely hot by afternoon.
For Govind, the nearest petrol pump was 60 kms (one way) and had to make the 120-kms journey often just to fill fuel in his bike. "My project involved lots of travelling and it was very tiring and hectic to ride a bike, conduct a survey and then go in search of potential ecotourism sites. Villages like Sarhi were 90 km away from my camp so I had to ride for 90 kms to conduct the survey, asses the site and then ride the bike 90 km back," recalled Govind.
One experience Govind remembers vividly. "I was on my way to the park, a group of Bison passed in front. After travelling 2 km, me and a friend saw a male and female barking deer, which was an unusual sighting, since they are very shy animals. After some distance, we saw an elephant busy eating grass. When we were about to cross the valley we saw a tiger coming from the opposite side, he was very big in size and his belly was looking fat, which meant that he had hunted and eaten his prey just few hours before. Half of his body was covered with mud and he was walking straight towards us. We kept moving backwards till he disappeared into a dense forest on the side of the road. During these five minutes there was not a single noise in the jungle except that of shutter of my camera. It was an experience, which I will remember for my whole life."
Below is the photo clicked by Govind at this point.
On another occasion, Govind was able to stay at a in 100 year-old forest rest house, Next morning, when he was eating his breakfast, a forest guard told him that a cow had been killed by a tiger last night 25 km away from here. Govind reached the village in a four-wheeler. "When we reached the village, we were told the rough terrain would not allow our vehicle to go forward. We walked with great difficulty as the road was jagged and lumpy and entered the jungle area. We could see what had happened at night. There was damaged undergrowth, broken lower branches of tree which all indicated that cow had struggled very hard to escape herself from the powerful jaws of the tiger. The wild animal had dragged her more than half kilometer after killing her on the rough terrain, so that he could eat his meal in peace. The same terrain on which we were not able to walk and our vehicle was not able to run either."
(see pic below of the killing)
Govind has to walk or ride 6 km away to purchase materials like bread, jam and other daily usage things. On one such errand, around 9.00pm, Govind and a friend saw a huge tiger appear in front walking on the left side of the the road. "He was some 15-20 meters away, he ignored us and continue to walking, thereby passing us. We thought we were going to die that day."
Otherwise, life was fun for Govind. Four days in a week, he played cricket with villagers on a big grassland just outside the park, with a Cosco tennis ball that costs Rs 80 there as it had to be ordered from Jabalpur. "While playing Govind often heard the deer calling or jackals howling. The
sambar
or the Wild Boar often passed the pitch too."
Govind taking a walk in the forest
Name: Arvind Garimella (28). Worked at Infosys and Oracle. BTech in Information and Communication Technology from DA-IICT Gandhinagar
Internship was with Nature Conservation Foundation, India. (NCF) to study Snow Leopard Conservation in the Upper Region of Spiti, Himachal Pradesh. The job was to study evidences of climate change in the upper Spiti region and its socio-economic impacts on the local population.
Officially learning: The local population is predominantly an agro pastoral population and Spiti being a Trans Himalayan Cold Desert has very harsh winters and high diurnal temperatures. Thus, people are always on a collision course with the climate and according to Arvind the only way to survive in this region is to live as a joint community. "I learnt how to structure a Meta problem, learnt a hybrid approach of how to integrate meteorological data analysis with local perception survey data analysis, learnt about the people and their value system," Arvind told PaGaLGuY.com
Real learning: Arvind stayed at the NCF Base Camp at Kibber (village), which was at an altitude of 4200metres.
Arvind had to travel a manually operated trolley approxmiately1.5m by 1.5m across a Himalayan gorge separating the two villages Chichim and Kibber (see pic below). "I had to travel to Chichim thrice so used the trolley six times, it was a heart pounding experience, this is the most preferred means of travel between these two villages due to the reduction in travel time."
Arvind used to start his day early without breakfast and skipped lunch to cover as many villagers so that work could get over before 3.00pm when it used to start getting dark.
On one such trip back to base, Arvind had to hitch a ride in a van carrying raw vegetables. "I was made to sit in the rear with all the vegetables baskets. So hungry I was that I could have eaten all the raw vegetables but the driver had strictly instructed me that I should not touch them."
Arvind had to frequently commute to Kaza, the commercial centre there and had to use the shared jeep that started at 8.00 am. Each jeep carried some 25 people and the route was bumpy with too many sharp turns. "One such trip I sat on top of the jeep since I could not fit inside with so many villagers. They warned me not to sit on top but I did not bother. By the time I reached, I couldn't feel my legs or hands because I sat through a snow fall."
For Arvind the best part of Spiti is that people don't make "you feel lonely; people always invite you for a nice hot cup of tea even if you are a total stranger and will even offer a meal,"said Arvind.
Arvind spent many days just walking through the landscape, dodging clumsy parts, meeting people, catching a glimpse of the blue sheep, Ibex and the Red Fox along with the NCF Base Camp caretaker Lamaji (Tenzingji).
The landscapes were stunning and out of the world. I got to eat lots of Maggi, Paratha, Sattu,Tuppa, Yak meat, dried paneer sweet, and generally the food is boiled with minimum or no spices. Chang (the local beer made out of Barley) and Arak (another alcoholic beverage made from Barley) is also popular there."